University Institute of Biomedical and Healthcare Research
What is the iUIBS?
The University Institute of Biomedical and Healthcare Research (iUIBS) is the University of Las Palmas de Gran Canaria research centre in the biomedical, biotechnological, hospital and social-healthcare area. It brings together university research groups, hospital research groups, public centre research groups and collaborating researchers.
The aim of the iUIBS is to create the best conditions for the development, attraction and performance of R+D+i applied in the health sector and offer knowledge-intensive technological services which can add value, for the improvement of the population's health through novel treatment techniques and illness prevention. In addition, it seeks to consolidate the high scientific and research level in the Canary Islands biomedical and healthcare areas, to achieve excellence, synergy and convergence with other groups, universities, hospitals or companies in the sector.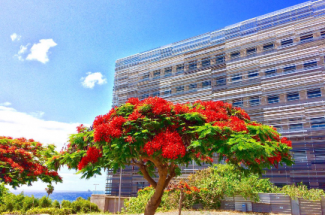 Mission
To boost and integrate biomedical and healthcare research in order to improve the population's health and boost the growth of knowledge in the areas involved, with generation of economic, healthcare and environmental resources for the region, with clear international outreach.
Vision
With the patient and society as the focus point, the Institute's purpose is the development of R+D+i, with the vocation of service application and provision for healthcare, industrial, clinical, and academic administration. The Institute aims also to have infrastructures to support the business sector with the aim being a future business centre where entities already established in the Canaries, or external entities intending to do so, can be housed, as well as an incubation area for the empowerment of entrepreneurship and the generation of technology-based companies and spin-offs.
Organisational structure
The governing structure of the iUIBS consists of:
Institute Council
Scientific Committee
The iUIBS is managed by:
Director: Prof. Ana María Wägner
Secretary: Prof. Carlos Borja Guerra Hernández
Scientific committee
And organised into the following divisions:
External Services
Transfer and Dissemination
Statistics
Laboratories
Training and Doctoral Studies
Documentation
International Relations
Objectives
To undertake quality research projects and generate and publish the scientific knowledge about health and illness and their context, integrating into networks of biomedical and healthcare excellence both nationally and internationally.
To train healthcare sciences professionals for biomedical and healthcare research, to participate and direct research, innovation and development projects.
To integrate the sustainable innovation and development of medical sciences into the context of the healthcare system.
To apply the knowledge in transfer of biomedical and healthcare technology to seed projects and specialised businesses.
To inform, raise awareness and train professionals and the population in the importance of research in the development and progress of medicine, biological sciences, biotechnology and public health.
To incorporate biomedical and healthcare research into cooperation for development.
To improve teaching and care quality in the healthcare centres in the province.
To participate in National and International Research Networks and Structures.